This is the motto which drives a patient to seek medical advice when faced with pain or discomfort in any joint. Joint pain may be trivial and just cause a temporary restraint to a patient's mobility or at times be severe enough to render a patient disabled.
This is the motto which also drives the musculo-skeletal physicians (Orthopedic surgeons, Rheumatologists and Physiotherapists) to devise treatment modalities that help restore mobility and normal function back to a patient afflicted with joint disease.
The last decade or two has seen a quantum change in the management of patients with disorders of joints especially those involving the hip, knee, and shoulder. Our understanding of various conditions affecting the joints (especially those related to ligaments and cartilages inside the joint) has evolved in a big way. Better imaging modalities like MRI scanning have contributed to this change. Advances in the field of arthroscopic surgery (key-hole surgery of joints) have made a huge difference to the way sports injuries (injuries to ligaments and cartilages inside the joint) are managed and the way sportsmen are rehabilitated back to their sporting activities. Similarly, advances in joint replacement surgery (implanting artificial joints) have revolutionized the treatment of a patient afflicted with severe arthritis.
Dr Sujit Korday is an orthopedic surgeon with a special interest in treating patients with joint disorders. Dr.Korday is specifically trained in arthroscopic surgery of joints particularly the knee, shoulder and ankle, as well as in joint replacement surgery (knee and hip replacement surgery). Dr.Korday has trained in Mumbai (India), UK, Canada and Australia, and is in the forefront of treating patients with various joint problems. Dr.Korday has been in practice in Mumbai for the more than 10 years, and has a vast experience in handling patients with problems relating to their joints. Dr.Korday is affiliated to some of the renowned hospitals in Mumbai and is also actively involved in teaching under-graduate medical students as well as post-graduate orthopedic residents. Dr.Korday is an active faculty member for a number of national and international conferences on Arthroscopic Surgery and Joint Replacement.
Patients are usually very apprehensive about undergoing surgery on their limbs especially involving their joints, and have some doubts and queries regarding the nature of their joint problems and the treatment options suggested to them by their orthopedic surgeon. This website aims to educate the patient about the common joint problems affecting the knee, hip and shoulder joints and discusses the various modalities of treatment available to the patient.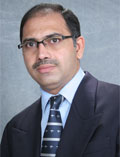 Dr. Sujit N. Korday
MS Orth (Bom), MCh Orth (Liverpool), FRCS (Edin)
Specialist Interests
Joint Replacement Surgery
» Hip, Knee, Shoulder Replacements
» Hip Resurfacing Surgery
» Computer Assisted Joint Replacement Surgery
Arthroscopic Surgery
» Knee Arthroscopic Surgery
» Shoulder Arthroscopic Surgery
» Ankle Arthroscopic Surgery
Hospital Attachments
» Bombay Hospital, Marine Lines, Mumbai
» Guru Nanak Hospital, Bandra (E), Mumbai
» BSES Hospital, Andheri(W), Mumbai